Commander Node Checker v1.1.4
Mac OS9 & X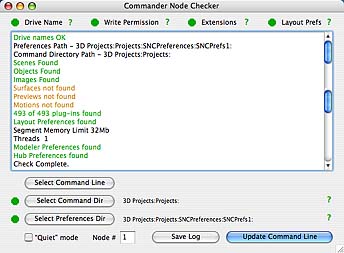 I have developed this utility to assist in the setting up of a ScreamerNet render farm for use with Newtek's LightWave© software. A very simple, but invaluable application, it will check to see whether you have set up your render node correctly. Recent revisions in the software will now allow you to make changes to your command line file too.

Simply place the application in the same folder as your LWSN command line file, and when you open Commander Node Checker, it will automatically check that all resources are available for rendering.

This application is freeware. Before downloading, you must read the License Agreement.