RenderFarm Commander v3.2.2
Mac OSX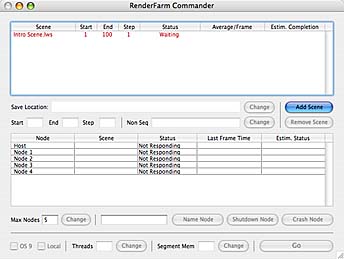 Description
This simple but powerful utility is designed for users of Newtek's LightWave© software. RenderFarm Commander will help you set up, manage, control and monitor a Newtek ScreamerNet render farm.

Features:

Automatic node setup*
LightWave© 9.2 compatibility
Split single images**
Crash monitor
Frame preview
Animated preview*
Editable output locations
Editable frame ranges
Non-sequential frames*
Public folder sharing*

Progress displays
Log file
Frame verify
Scene stop/start
Configurable thread settings*
Configurable segment memory*
Email notification
Simultaneous renders
Assemble image sequences*
Windows PC node support+
Object Replacement*


*Feature not available in Free version.
**The Split Render feature does not work with Lightwave version 9, however, this has been resolved with version 9.2.
+Has some limitations.

RenderFarm Commander is not yet compatible with the Universal Binary version 9.3 of LightWave. Due to other commitments, I have been unable to make the necessary changes to RenderFarm Commander. I do plan to make the update, but am unable to commit to a release date. My apologies to all.
Availability:
RenderFarm Commander is available for download right now! Simply click the download link below, and once you have read and agree to the license terms, download will begin. To upgrade RenderFarm Commander to the Hobby or Pro versions, simply purchase a registration number from my online store. Once you have made your payment, you will be sent a registration number by email. Enter this registration number into the RenderFarm Commander Registration window, which you can access via the Application menu of RenderFarm Commander.

Testimonials:
To read some of the great things that have been said about RenderFarm Commander, click here.

Pricing:
RenderFarm Commander is available in three configurations. The following table shows the functions and pricing of each configuration.

Free

Hobby

Pro

Maximum 2
Render Nodes
Maximum 8
Render Nodes
Up to 500
Render Nodes
Single Commander Operation
Single Commander Operation
Multiple Commander Operation
Sequence Rendering Only
Non-Sequential Rendering
Non-Sequential Rendering
No Automatic Node Setup
Automatic Node Setup
Automatic Node Setup
Maximum 2 slices with split renders
Up to 16 slices with split renders
Up to 16 slices with split renders
Download Now
Buy now from online store
Buy now from
online store
Free!
$45
$95


Prices are quoted in US Dollars.